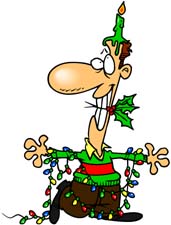 The WHLM PARADE OF LIGHTSTM
will illuminate downtown Bloomsburg with classic cars, floats, boats, fire trucks and thousands of Christmas lights. This year's prizes are $1,000 for the best float with a $500 prize for second place, and $250 for third place.
The best part is…there is no entry fee!
On top of all that, each of the first 30 entries will receive a $25 gift card from Kohl's Stony Hill Tree Farm and their massive Christmas shop.
This year the parade will form at the Geisinger Bloomsburg Hospital parking lot and travel down Lightstreet, to Main Street, onto Market Street, and will end at the Bloomsburg Fire Department.
Each entry should offer something unique and exciting. Please consider the following guidelines when working on your entry:


Lights are required - they are the most important part of this event. The more the merrier, the brighter the better!
If you plan to have a banner please make sure that is lighted too!!
Lights, Lights, and more Lights....hey it's the Parade of LIGHTS!


Music is also strongly encouraged - live or recorded - but kept at appropriate levels.


Entrants are expected to keep the staging area clean.


No Santas, please! We will be escorting Santa Claus himself to Downtown Bloomsburg.


The parade route starts at the Bloomsburg Hospital parking lot; travels down Lightstreet, onto Main Street, down Market Street, and ends at the Bloomsburg Fire Department.


Please submit your entry form by the deadline of Friday November 20th.
We reserve the right at time of event to disqualify an applicant. All decisions final. Santa Claus entrants are unacceptable. Entry is required to meet community standards. This is a family event and all entires must be "G" rated. The parade is not a political platform for controversial issues. Organizations with political agendas will be rejected. Entrants are responsible for any required ASCAP, BMI, or SESAC music licensing fees.
The Columbia Broadcasting Co., its officers and directors, the Parade of Lights Committee and all volunteers are not responsible for any and all liability, claims, actions and possible causes of action which may accrue to any member of the group from every and any loss, damage and injury (including death) that may be sustained while participating in the parade.
CLICK HERE FOR PHOTOS OF THE PAST WHLM PARADE OF LIGHTS
FOR FULL RULES AND REGULATIONS CLICK HERE

For more information please call (570) 784-1200



Entry forms are also available at:
124 East Main Street
Bloomsburg, PA 17815